An interview with Levy & Salomão Advogados discussing Dispute Resolution in Brazil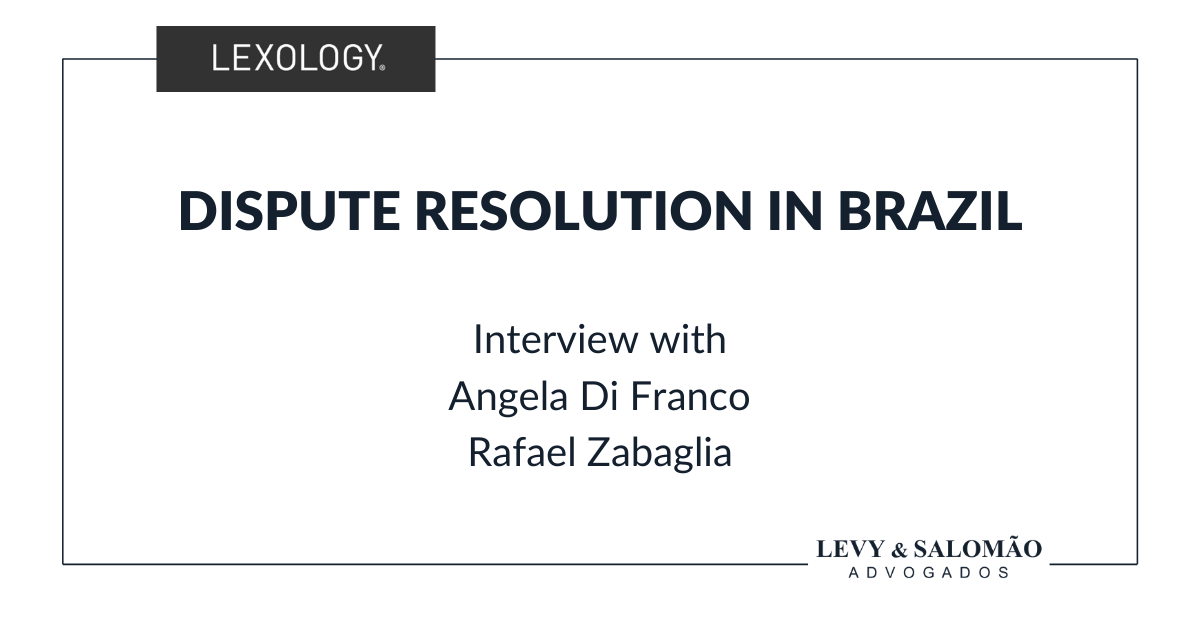 Lexology GTDT Market Intelligence provides a unique perspective on evolving legal and regulatory landscapes. This interview is taken from the Dispute Resolution volume discussing topics including Brexit's impact on choice of law and jurisdiction, market competition and the popularity of ADR within key jurisdictions worldwide.
1 What are the most popular dispute resolution methods for clients in your jurisdiction? Is there a clear preference for a particular method in commercial disputes? What is the balance between litigation and arbitration?
Litigation is still by far the prevailing method of dispute resolution in Brazil; contracts for the trade of goods and services are usually governed by Brazilian law and disputes stemming therefrom are usually submitted to Brazilian courts. Arbitration is the preferred dispute resolution mechanism in domestic and cross-border M&A deals, project financing and other investment-related transactions. However, it is nowhere close to overtaking litigation. Although there are no reliable statistics, the number of pending arbitration proceedings in reputable domestic institutions is no greater than 2,000, while there are hundreds of thousands of commercial disputes unfolding before courts of law.
Alternative dispute resolution (ADR) such as mediation and expert determination are still unusual in the practice of commercial disputes as parties are usually afraid that consenting to ADR before litigation or arbitration may be perceived by the opposing party as a sign of low confidence in the merits of the claim (that is, some sort of 'weakness'). Many contracts contain escalation clauses – language mandating the parties to negotiate a resolution of any dispute in good faith for a given period (usually 30 to 60 days) before engaging in litigation or arbitration – but the parties usually simply stall for time and do not meaningfully pursue a settlement during this period.
2 Are there any recent trends in the formulation of applicable law clauses and dispute resolution clauses in your jurisdiction? What is contributing to those trends? How is the legal profession in your jurisdiction keeping up with these trends and clients' preferences? Does Brexit continue to affect choice of law and jurisdiction?
It is not uncommon nowadays to see contracts governed by English or New York law and having international arbitration (usually under the International Chamber of Commerce rules) as the prevailing dispute resolution mechanism in the context of cross-border deals. As Brazilian companies seek to attract foreign investment and acquire goods and services in the international market, they have been more flexible in that respect than in the past. Pursuant to the Code of Civil Procedure, the parties are generally free to resolve disputes stemming from international contracts abroad. While the validity of governing law clauses might still be disputable in Brazilian courts, this tends not to be an issue any more as long as the matter is being litigated or arbitrated in a jurisdiction that favours the autonomy of will in the determination of applicable law.
On the flip side, domestic arbitration might no longer be such an obvious choice as far as cost-benefit analysis goes, as some clients have opted to submit their commercial disputes to the judiciary. On the one hand, the quality and predictability of the decisions entered by courts specialised in commercial, corporate and reorganisation law have been increasing; on the other hand, some domestic arbitration chambers have a greater workload than they can handle, with adverse effects on the timing and quality of their services (on average, disputes have taken in excess of two years from the request for arbitration to be resolved in reputable domestic institutions).
Arbitration clauses are themselves becoming more complex. Some clients want to introduce tailor-made carve-outs to standard arbitration rules (preliminary injunctions, interim measures, choice of arbitrators and so forth), others choose to have the arbitration seat in a venue that is neither the parties' nor the arbitration chambers, or to have the arbitration conducted in two languages – these decisions increase costs, and the interpretation of the applicable law may also become more problematic.
Keeping current (academic papers, industry news and so forth) is, of course, essential, but what we deem paramount for Brazilian practitioners in cross-border deals is to communicate efficiently with the client's foreign co-counsel to make sure that arbitration clauses will work both in Brazil and in the jurisdiction chosen by the parties, as questions about the enforceability of the arbitral award could arise further down the road. Top-tier Brazilian firms have been encouraging not only M&A but also dispute resolution attorneys to study and work abroad as a way to facilitate communication and to make sure that legal concepts can be correctly adapted from UK and US common law systems to the Brazilian civil law system and the other way around.
Brexit has not directly affected the choice of law and jurisdiction.
3 How competitive is the legal market in commercial contentious matters in your jurisdiction? Have there been recent changes affecting disputes lawyers in your jurisdiction? How is the trend towards 'niche' or specialist litigation firms reflected in your jurisdiction?
Brazil is already a saturated market, with dozens of very qualified local law firms ranging from specialised boutiques to full-service powerhouses.
It would be hard to point to one or two specific recent changes in the market with immediate impacts on commercially contentious matters. Non-legislative changes have been taking place gradually. For example:
the increasing exchange with foreign practitioners not only in the context of arbitration but also in some high-profile court proceedings (such as civil liability claims stemming from mass torts in cases of environmental disasters, air crashes and product recalls, or global-scale antitrust and insurance disputes) has influenced Brazilian practitioners in many different ways, from legal interpretation to negotiation techniques to evidence production; and
the growing complexity of commercial transactions requires from dispute resolution lawyers the mastering of accounting and business structures to better represent clients.
On the legislative front, several statutes were enacted in 2015 that directly affect litigation, arbitration and ADR – respectively, a new Code of Civil Procedure (Law No. 13,105), an update to the Arbitration Act (Law No. 13,129) and the Mediation Act (Law No. 13,140).
Given the relatively small number of proceedings, few firms are familiar with the nuts and bolts of arbitration, so it is itself a niche within the broader market for dispute resolution. As for litigation, some firms try to position themselves as boutiques in areas such as banking, intellectual property and competition law, but the larger disputes are usually handled by firms that have strong practices in both substantive law and dispute resolution as these two skill sets are required.
4 What have been the most significant recent court cases and litigation topics in your jurisdiction?
Litigation stemming from white-collar probes made the news in 2019. Many challenging questions have arisen, ranging from the problem of the Brazilian legal framework, with several authorities having overlapping jurisdiction to pursue civil and administrative liability of wrongdoers and cut deals with them, to controversies over the validity of leniency agreements and the position of companies (such as Petrobras) as the victim or the participant of corruption schemes. Courts are yet to resolve those controversies.
Business insolvency remains a hot topic. In mid-2019, Odebrecht, arguably the largest domestic infrastructure conglomerate, filed for a multibillion in-court reorganisation. In light of the covid-19 pandemic, we expect other high-profile companies to follow suit and also seek court protection sooner or later.
Court precedents on domestic and international arbitration always draw a lot of attention from both arbitration attorneys and litigators. The Arbitration Act was enacted in 1996, and only in late 2001 did the Supreme Court affirm its constitutionality, so there are only around 15 years' worth of precedents. Many controversial aspects have already been addressed by the Superior Court of Justice (STJ), but the view of courts of law on the Arbitration Act is still very relevant for practitioners in counselling their clients on whether to opt for arbitration and to design the most suitable strategy for the dispute.
5 What are clients' attitudes towards litigation in your national courts? How do clients perceive the cost, duration and the certainty of the legal process? How does this compare with attitudes to arbitral proceedings in your jurisdiction?
Clients seem to be realistic about the pros and cons of legal process and arbitration after having embraced domestic arbitration wholeheartedly following the Supreme Court's affirmation of the Arbitration Act's constitutionality in 2001.
The costs of litigating claims are evidently lower than submitting them to arbitration. Litigating in some states, such as São Paulo, is not in itself cheap, as court fees, expert fees and appeal fees could well exceed 100,000 reais and perhaps even 200,000 reais depending on the complexity of the expert evidence to be produced (plus the costs with the party's own legal counsel). This is hefty for small enterprises, and one could argue that it is, at any rate, too expensive in light of the excessive duration of lawsuits and the perceived unpredictability of court decisions. But the fact that domestic arbitration expenditures tend to amount to 500,000 reais or more in many chambers (plus the costs with the party's own legal counsel) certainly does no favours for the adoption of arbitration among small and even mid-sized enterprises – thereby preventing larger businesses from incorporating arbitration into all their contracts with those smaller businesses.
Lawsuits in Brazil still take too much time despite the transition from paper to electronic filings: on average, it will take something between eight to 10 years for a commercial lawsuit to make it through the lower court, the court of appeals and the STJ or the Supreme Court. The 2015 Code of Civil Procedure purports to reduce the number and duration of lawsuits by simplifying the procedural rules, limiting the filing of appeals, extending the cases in which higher courts' precedents will be binding to lower courts and increasing the economic risks of litigation (greater attorney's fees and imposition of daily fines for failure to comply with court orders). However, whether the Code of Civil Procedure has accomplished those purposes is something to be appraised around five years from now. Arbitration takes much less than eight years to unfold, of course, thanks to the lack of an appeal phase, but the bad news is that its duration has, on average, increased to two and a half years as from the request for arbitration, which is somewhat disappointing to some parties who expect a swifter resolution of their dispute.
Certainty of the decisions may be the aspect in which arbitration has the upper hand over litigation in clients' view. Clients strongly feel that arbitrators deliver more consistent and technical rulings on business law than judges, although they have at times felt frustrated with arbitrators who lack a more proactive approach during hearings and examinations or whose awards do not contain in-depth assessment of the parties' arguments. Clients are particularly worried that judges may not be familiar with market practices nor knowledgeable about industry-specific regulation (especially in infrastructure and project finance disputes) or corporate and M&A law. However, there is a chance that this perception will change given the judiciary's efforts to have courts specialise in business law.
6 Discuss any notable recent or upcoming reforms or initiatives affecting court proceedings in your jurisdiction.
Regarding reforms, the most significant one was obviously the enactment of a new Code of Civil Procedure in 2015, which has brought several significant changes, such as the following:
it is harder to file appeals in certain circumstances;
parties are allowed to agree upon a calendar for and the conduct of court hearings, evidence production and other procedural acts as if they were in an arbitration proceeding;
the binding effect of certain court precedents upon lower courts has been strengthened; and
ADR being incentivised as a mediation hearing is now a mandatory step prior to the filing of defence.
Many controversies regarding the interpretation of the new Code of Civil Procedure are yet to be resolved by the courts. Until then, we do not expect other meaningful initiatives regarding procedural law.
When it comes to business law, Law No. 13,874/2019 (the Economic Freedom Act) changed several rules on the issuance of permits and licences and the interpretation of private contracts; this is expected to result in businesses suing the government to avoid red tape. Additionally, Congress is currently reviewing several bills aiming to change the 2005 Business Insolvency Act, reflecting evolutions in case law and containing provisions about cross-border insolvency and the treatment of foreign creditors in domestic proceedings. The most consequential of those bills was scheduled for voting in February 2020, but it did not happen.
As at late April 2020, Congress is also discussing legislative changes in the wake of the covid-19 pandemic. Two bills of law may be highlighted. One of these introduces a series of changes to restrict the exercise of certain rights in the context of lease agreements (rural and urban), suspend the application of the statute of limitations and so forth while the pandemic unfolds; the other seeks to create a temporary legal regime to prevent business insolvency by ordering a pre-court negotiation between the debtor and the pool of creditors.
7 What have been the most significant recent trends in arbitral proceedings in your jurisdiction?
Since the International Chamber of Commerce (ICC) opened its São Paulo office a few years ago, it has sought to incentivise the use of expedited arbitration proceedings – a trend that has been gaining traction because it provides parties with the alternative of a more rational method of dispute resolution from the perspectives of cost and efficiency, with simpler rules and a faster outcome. We expect this trend to continue as Brazilian parties and firms become more familiar with the relevant rules applicable to expedited arbitration in particular and with the local ICC office in general.
The interaction between arbitration and ADR also tends to be in the spotlight. First, the 2015 Mediation Act may have an effect on arbitration as it prohibits mediators from acting as arbitrators or witnesses in an ensuing dispute, and parties from disclosing documents and information produced during mediation. Second, dispute boards and adjudications, which are two ADR methods that have not been regulated in federal statute, have become more common in the context of construction and infrastructure agreements that also contain arbitration clauses. Local regulations and state court precedents on the use of dispute boards have been issued, and this may soon also be seen at the federal level if the government really puts into action its plans to develop or revamp Brazilian infrastructure.
8 What are the most significant recent developments in arbitration in your jurisdiction?
Multiple federal, state and local rules have been passed over the past few years to expressly allow the government to refer certain disputes in specific sectors (for example, certain claims for damages or for revision of contracts) to arbitration. While that may be seen as an incentive for private investments at a time when Brazil is in dire need of them, the fact is that the STJ has expressly recognised the government's ability to be bound by arbitration agreements in many cases; this position was prevalent and resulted in an already broad provision in the Arbitration Act to allow the government to validly enter into arbitration agreements. As a matter of fact, Brazil is nowadays seen as one of the most arbitration-friendly jurisdictions in Latin America, mostly because of the judiciary's supportive interpretation of the Arbitration Act: instead of affirming its jurisdiction over disputes submitted to arbitration and then challenged in court as it might otherwise have done, the courts have consistently safeguarded the validity and lawfulness of arbitration, arbitrators' rights and jurisdiction, as well as the binding nature of arbitration agreements and the existence of implied consent to arbitrate. This has been the case in both disputes involving the government and between private parties.
9 How popular is ADR as an alternative to litigation and arbitration in your jurisdiction? What are the current ADR trends? Do particular commercial sectors prefer or avoid ADR? Why?
ADR has not gained much traction in Brazil yet but we expect this to change in light of efforts on both the judicial and the legislative fronts. Brazilian courts are overwhelmed, and widespread adoption of ADR would come in handy; according to the most recent official data available, there were around 79 million lawsuits pending before Brazilian courts as of December 2018.
The judiciary has been promoting ADR through campaigns and seminars, capacitating mediators and expert negotiators and implementing specific programmes to submit certain disputes (for example, family affairs and consumer rights) to those specialists. On top of this, the 2015 Mediation Act was enacted to regulate mediation systematically for the first time, and the 2015 Code of Civil Procedure also contains several rules to incentivise it.
Banks and telephone companies have been partnering with the judiciary to implement some innovative ADR programmes to prevent litigation. Banks, for instance, are part of a government-sponsored online mediation system and also operate an ADR facility in the city of São Paulo to review and settle lawsuits immediately after they have been filed by clients. It is still unclear whether other sectors and industries with a very large number of standardised consumer-related claims, such as the airline industry, will follow suit.
Larger players in the civil construction industry tend to employ FIDIC contracts and other standard form agreements and to appoint dispute boards to prevent or solve disputes that arise during the performance of the contract so as to avoid disruption in construction work and schedule delays.
The Inside Track
What is the most interesting dispute you have worked on recently and why?
We have been assisting several clients in matters that involve interplay between corporate integrity and dispute resolution. The most interesting work in that area has been the representation of clients in private disputes between companies and their service providers for alleged breaches of compliance-related duties. Corporate integrity is the subject matter of the dispute, but it also affects the procedural strategy itself – it becomes a key factor in defining the evidence a client may be able to produce, whether a client is in a position to settle, and so forth.
Describe the approach adopted by the courts in your jurisdiction towards contractual interpretation: are the courts faithful to the actual words used, or do they seek to attribute a meaning that they believe the parties actually intended?
Statute on the interpretation of private contracts is expressly designed to give courts the necessary wiggle room to favour substance over form when they find that this is appropriate. Despite this wiggle room, the courts of business hubs such as São Paulo usually stick to the actual wording when sophisticated parties are involved. That said, the unprecedented situation created by the covid-19 pandemic – specifically, the fact that many parties will seek to find ways to rediscuss contracts – may show how faithful to the letter of the contracts those courts really are.
What piece of practical advice would you give to a potential claimant or defendant when a dispute is pending?
The most reputable arbitrators and the courts alike face a heavy workload in Brazil. Knowing how to properly frame the arguments – how to use language, verbally and in writing – in support of clients is key. Being technical is always the starting point, but from there, it may prove much more effective to take a more 'practical' rather than 'academic' approach in submissions and hearings, and to sound clear and concise rather than aggressive by resorting to adverbs and adjectives. Lawyers should seek to make the life of arbitrators and judges easier.
What are you searching for?